UKRAINE - The Lord of the Rings Volume I: The Fellowship of the Ring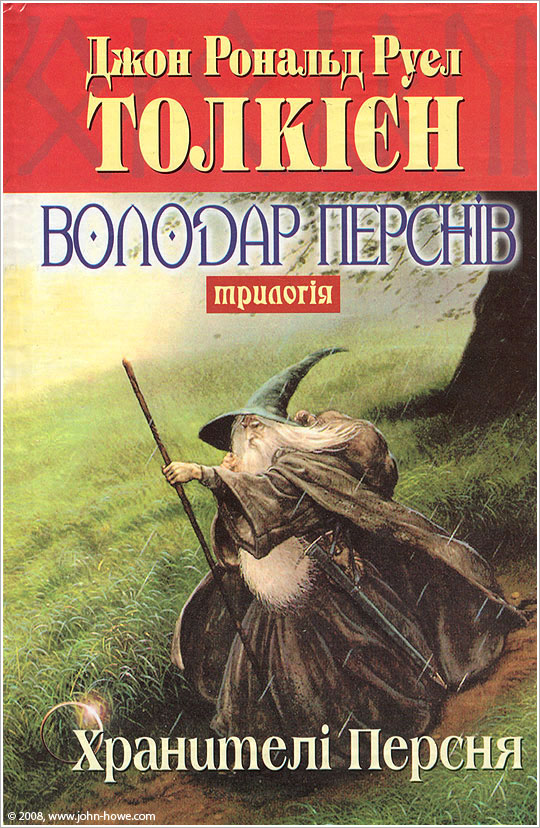 The Lord of the Rings Volume 1 : The Fellowship of the Ring - Ukraine
J. R. R. Tolkien
Folio Publishing House, Kharkov
2003
ISBN 966-03-1915-0
Hardcover, 450 pages

This is the kind of book you have to love to hate...

This edition of the The Lord of the Rings is of course not authorized. (The Two Towers has my "The Company Approaches Caradhras" on the cover and The Return of the King has a painting by Ted Nasmith.) Here is the very nice note I received from the editor Folio Publishers, in Kharkov, when I enquired about them:

"Folio Publishers indeed has published trilogy Lord of the Rings and Hobbit by J.R.R Tolkien. The publishing house paid for the work of the cover designer not knowing that your illustrations were used in the design of the cover.
We are very sorry that such situation has occurred and we wouldn't use your illustrations if we knew that they are protected by copyright."

Scruples must have a brief shelf life. That was the last news I had.

The back covers of the books, by the way, are illustrated with artwork by Angus McBride, done years ago for the role-playing game books, greyscaled and then run through the "bas-relief" filter on Photoshop and tinted green.
| | |
| --- | --- |
| Keywords: | |
| File size: | 166.8 KB |